Worship Guide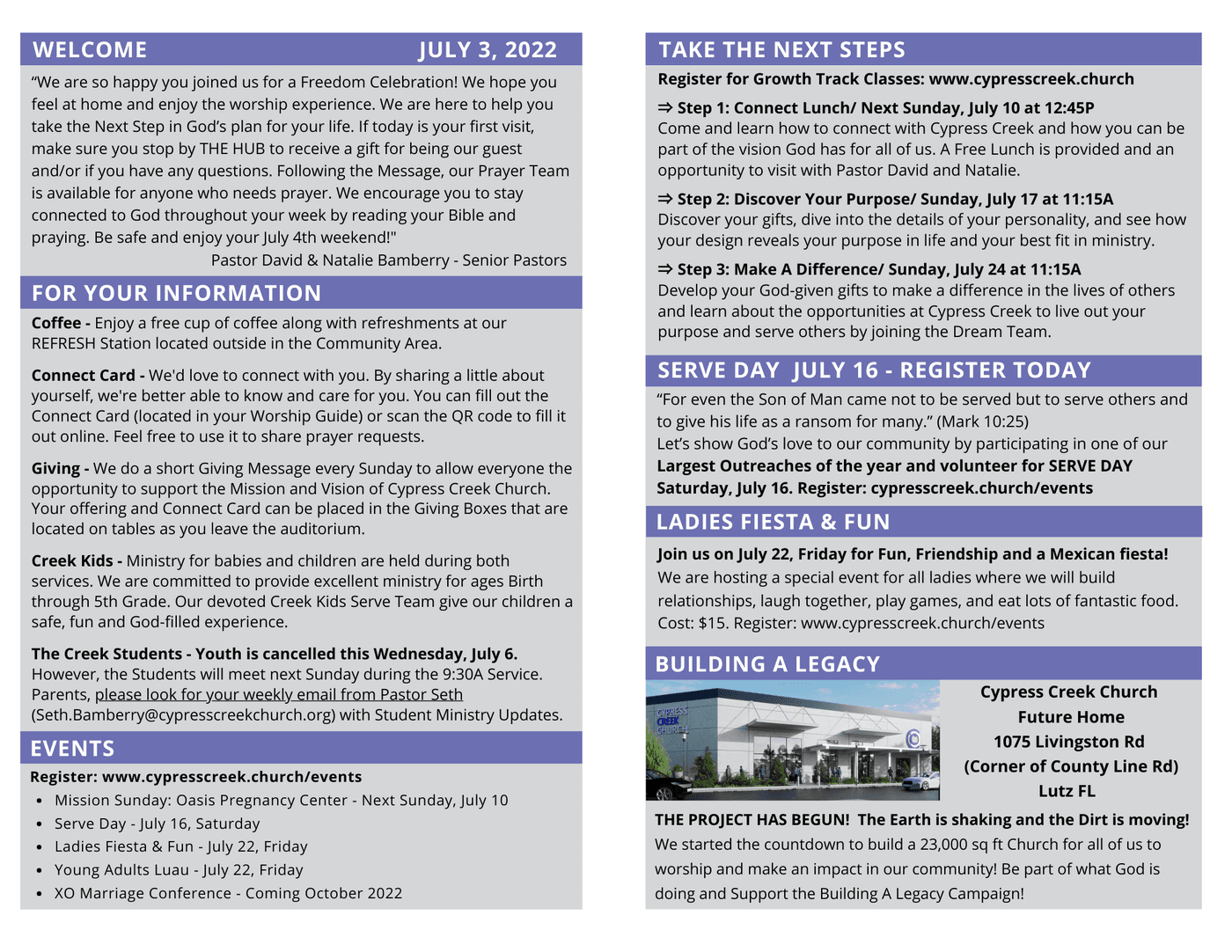 Message Notes
Cypress Creek Church — Pastor David Bamberry
July 3, 2022
Message: Heroes of the Faith
Hero of the Faith: ABRAHAM
THE FATHER OF FAITH
Life Lessons
1. God's Promise is Always Found through Steps of OBEDIENCE.
Genesis 12:1-2 NLT—The Lord had said to Abram, "Leave your native country, your relatives, and your father's family, and go to the land that I will show you. 2 I will make you into a great nation. I will bless you and make you famous, and you will be a blessing to others.
2. We Must Let Go of our Past to Reach our Full POTENTIAL in Christ.
Genesis 15:1-4 NLT—The Lord spoke to Abram in a vision and said to him, "Do not be afraid, Abram, for I will protect you, and your reward will be great." But Abram replied, "O Sovereign Lord, what good are all your blessings when I don't even have a son? Since you've given me no children, Eliezer of Damascus, a servant in my household, will inherit all my wealth. 3 You have given me no descendants of my own, so one of my servants will be my heir." Then the Lord said to him, "No, your servant will not be your heir, for you will have a son of your own who will be your heir."
3. Our TIMING and God's Doesn't Always Match.
Genesis 16:1-2 NLT— Sarai, Abram's wife, had not been able to bear children for him. But she had an Egyptian servant named Hagar. 2 So Sarai said to Abram, "The Lord has prevented me from having children. Go and sleep with my servant. Perhaps I can have children through her." And Abram agreed with Sarai's proposal.
4. We Must Boldly Proclaim the TRUTH in Spite of Contradictory Circumstances.
Genesis 17:1-5 NLT— When Abram was ninety-nine years old, the Lord appeared to him and said, "I am El-Shaddai—'God Almighty.' Serve me faithfully and live a blameless life. 2 I will make a covenant with you, by which I will guarantee to give you countless descendants." 3 At this, Abram fell face down on the ground. Then God said to him, 4 "This is my covenant with you: I will make you the father of a multitude of nations! 5 What's more, I am changing your name. It will no longer be Abram. Instead, you will be called Abraham, for you will be the father of many nations.
Romans 4:17 NIV—As it is written: "I have made you a father of many nations." He is our father in the sight of God, in whom he believed—the God who gives life to the dead and calls into being things that were not.
5. Faith Aligns Our "BUT" with God!
Genesis 17:15-17 NLT—Then God said to Abraham, "Regarding Sarai, your wife—her name will no longer be Sarai. From now on her name will be Sarah. 16 And I will bless her and give you a son from her! Yes, I will bless her richly, and she will become the mother of many nations. Kings of nations will be among her descendants." Then Abraham bowed down to the ground, but he laughed to himself in disbelief. "How could I become a father at the age of 100?" he thought. "And how can Sarah have a baby when she is ninety years old?"
Genesis 18:10-14 NLT—Sarah laughed silently to herself and said, "How could a worn-out woman like me enjoy such pleasure, especially when my master—my husband—is also so old?" 13 Then the Lord said to Abraham, "Why did Sarah laugh? Why did she say, 'Can an old woman like me have a baby?' 14 Is anything too hard for the Lord? I will return about this time next year, and Sarah will have a son."
Romans 4:18-21 NIV—Against all hope, Abraham in hope believed and so became the father of many nations, just as it had been said to him, "So shall your offspring be." 19 Without weakening in his faith, he faced the fact that his body was as good as dead—since he was about a hundred years old—and that Sarah's womb was also dead. 20 Yet he did not waver through unbelief regarding the promise of God, but was strengthened in his faith and gave glory to God, 21 being fully persuaded that God had power to do what he had promised.
Our Faith Hits Maximum Velocity and Power
When It Becomes "Fully Persuaded."
If Abraham Could Speak to Us Today, He Would Say…
→ "Trust that God is For You and On Your Side."
Romans 8:31b NLT—If God is for us, who can ever be against us?
→ "Trust God Even When It Doesn't Make sense."
Genesis 17:17 NLT—Then Abraham bowed down to the ground, but he laughed to himself in disbelief. "How could I become a father at the age of 100?" he thought. "And how can Sarah have a baby when she is ninety years old?"
→ "Trust God with No Reservations."
I Corinthians 1:9 NLT—God will do this, for He is faithful to do what He says, and He has invited you into partnership with his Son, Jesus Christ our Lord.
God is true to His Word. Will you be true to Him?