Worship Guide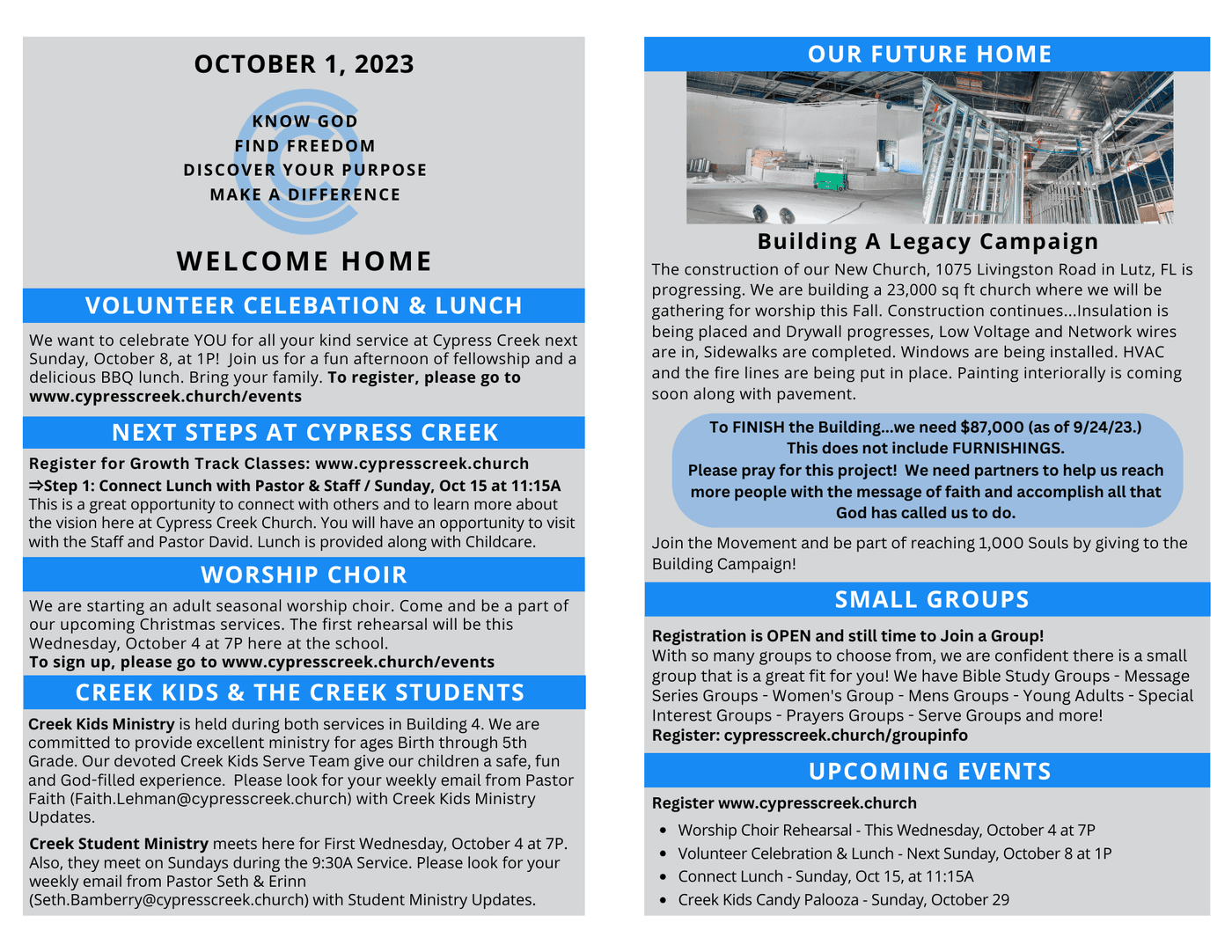 Message Notes
October 1, 2023
Pastor David Bamberry
UNSTOPPABLE COMMUNITY – Week 4
So it is with Christ's body. We are many parts of one body, and we all belong to each other. Romans 12:5
Jesus knew their thoughts and said to them, "Every kingdom divided against itself will be ruined, and every city or household divided against itself will not stand." Matthew 12:25 NIV
If you've gotten anything at all out of following Christ, if his love has made any difference in your life, if being in a COMMUNITY of the Spirit means anything to you, if you have a heart, if you care - then do me a favor: Agree with each other, love each other, be deep-spirited friends. Don't push your way to the front; don't sweet-talk your way to the top. Put yourself aside, and help others get ahead. Don't be obsessed with getting your own advantage. Forget yourselves long enough to lend a helping hand. Philippians 2:1-4 MSG
1. I need people who will WALK with me.
Matthew 4:19—Jesus called out to them, "Come, follow me, and I will show you how to fish for people!"
Genesis 2:18—Then the Lord God said, "It is not good for the man to be alone."
a. It's SAFER.
b. It's SUPPORTIVE.
• "When you run alone, you run fast. But when you run together, you run far."
c. It's SMARTER.
Hebrews 10:25—"And let us not neglect our meeting together, as some people do, but encourage one another, especially now that the day of his return is drawing near."
• Community is God's answer to LONELINESS.
Acts 2:46-47—They worshiped together at the Temple each day, met in homes for the Lord's Supper, and shared their meals with great joy and generosity all the while praising God and enjoying the goodwill of all the people. And each day the Lord added to their fellowship those who were being saved.
2. I need people who will WORK with me.
Ephesians 4:16—He makes the whole body fit together perfectly. As each part does its own special work, it helps the other parts grow, so that the whole body is healthy and growing and full of love.
Ecclesiastes 4:9—Two people are better off than one, for they can help each other succeed.
• Community is God's answer to FATIGUE.
Galatians 6:10 MSG—Every time we get the chance, let us work for the benefit of all, starting with the people closest to us in the COMMUNITY of faith.
3. I need people who will FIGHT for me.
Philippians 2:4—Don't look out only for your own interests, but take an interest in others, too.
Ecclesiastes 4:12—A person standing alone can be attacked and defeated, but two can stand back to-back and conquer. Three are even better, for a triple-braided cord is not easily broken.
• Community is God's answer to DEFEAT.
Ecclesiastes 4:10—If one person falls, the other can reach out and help. But someone who falls alone is in real trouble.
4. I need people who will CRY with me.
1 Peter 3:8 TLB—You should be like one big family, full of sympathy toward each other, loving one another with tender hearts and humble minds.
Romans 12:15—Be happy with those who are happy, and weep with those who weep.
• Community is God's answer to DESPAIR.
1 Thessalonians 5:11—So encourage each other and build each other up, just as you are already doing.
5. I need people who will PARTNER with me.
Philippians 1:27 CEV—You are working together and struggling side by side to get others to believe the Good News.
Deuteronomy 32:30—How could one person chase a thousand of them, and two people put ten thousand to flight...
• Community is God's answer to SIGNIFICANCE.
All scriptures are from the New Living Translation (NLT) unless otherwise noted.