Worship Guide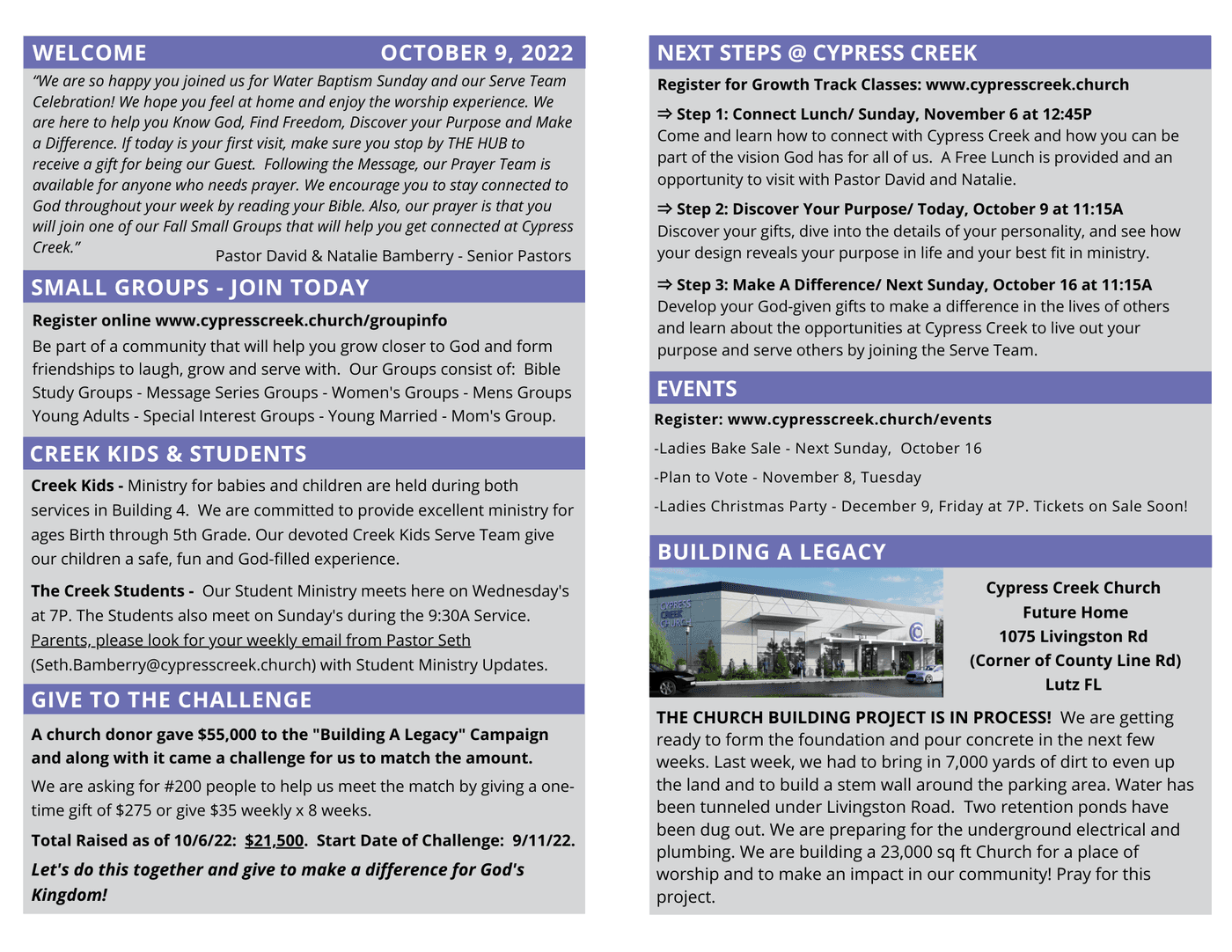 Message Notes
Sunday, October 9, 2022—Part 5 | Pastor David Bamberry
I PRESS ON toward the goal to win the prize for which God has called me
Heavenward in Christ Jesus—Philippians 3:14
THE COACH APPROACH
 In Philippians 3, we hear the voice of "Coach Paul" …
Philippians 3:15-16— Let all who are spiritually mature agree on these things. If you disagree on some point, I believe God will make it plain to you. But we must hold on to the progress we have already made.
Philippians 3:17— Dear brothers and sisters, pattern your lives after mine, and learn from
those who follow our example.
Philippians 3:17-19 MSG— Stick with me, friends. Keep track of those you see running this same course, headed for this same goal. There are many out there taking other paths, choosing other goals, and trying to get you to go along with them. I've warned you of them many times; sadly, I'm having to do it again. All they want is easy street. They hate Christ's Cross. But easy street is a dead-end street. Those who live there make their bellies their gods; belches are their praise; all they can think of is their appetites.
 We are a REFLECTION of what captures our attention the most.
I Corinthians 4:14-17— I am not writing these things to shame you, but to warn you as my beloved children. For even if you had ten thousand others to teach you about Christ, you have only one spiritual father. For I became your father in Christ Jesus when I preached the Good News to you. So I urge you to imitate me. That's why I have sent Timothy, my beloved and faithful child in the Lord. He will remind you of how I follow Christ Jesus, just as I teach in all the churches wherever I go.
 In Life more is CAUGHT than taught.
I Corinthians 15:33— Don't be fooled by those who say such things, for "bad company corrupts good character."
LIFE COACHES
1. We choose people who EMBODY, what we hope to become.
2. We give them PERMISSION to speak into our lives.
3. We remain humble and TEACHABLE.
4. We learn to trust their WISDOM.
Proverbs 11:14— Without wise leadership, a nation falls; there is safety in having many advisers.
BECOMING A LIFE COACH
Matthew 28:19—Therefore, go and make disciples of all the nations, [a] baptizing them in the name of the Father and the Son and the Holy Spirit.
Matthew 4:19 NKJV— Then He said to them, "Follow Me, and I will make you fishers of men."
1. We find spiritual children who need a spiritual PARENT.
2. We MODEL a life for them to follow.
3. We speak the truth in LOVE.
Ephesians 4:15— Instead, we will speak the truth in love, growing in every way more and more like Christ, who is the head of his body, the church.
THIS WEEK
 List the individuals God has placed in your life to be a coach and voice of wisdom. Or
name several people you admire and desire to be like.
 What are the attributes they have that you need in your life?
 For me to be more like Jesus and a role model for others, I need to….