Worship Guide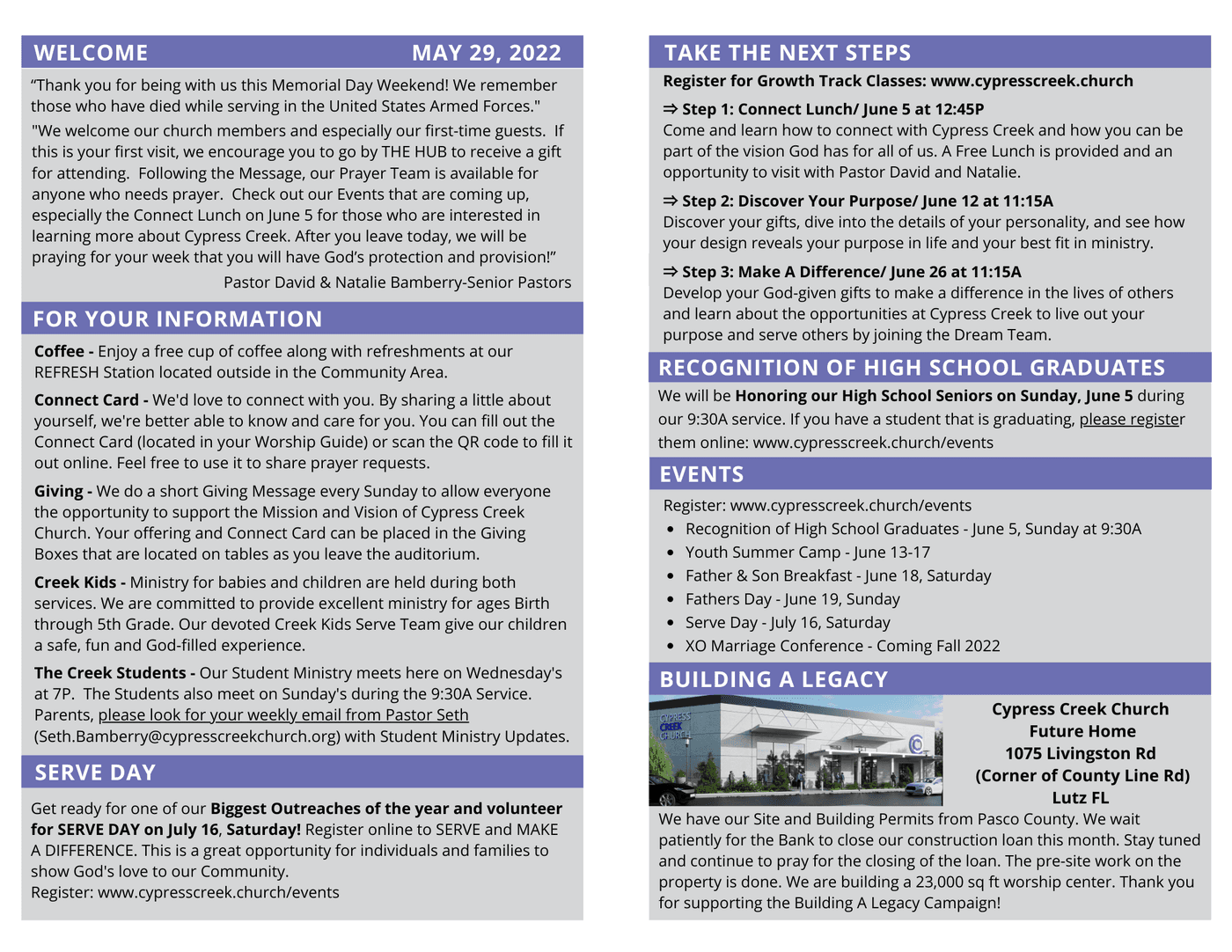 Message Notes
Cypress Creek Church — Pastor David Bamberry
May 29, 2022
Message: FEAR NOT—Living with Confidence in a Chaotic World
Overcoming the Fear of Rejection
Fearing people is a dangerous trap, but trusting the Lord means safety.
Proverbs 29:25 NLT
1. What the Fear of Rejection Does to Us
Allows other to manipulate us
Causes us to conform to peer pressure
Keeps us from speaking the truth
Prevents us from giving and receiving love
Causes shyness and loneliness
Produces depression and unhappiness
Silences our sharing about Christ
I Samuel 15:24 NIV —Then Saul said to Samuel, "I have sinned. I violated the Lord's command
and your instructions. I was afraid of the men and so I gave in to them."
John 12:43-44 PH—"Many even of the authorities did believe in Jesus. But they would not admit
it for fear of the Pharisees, in case they should be excommunicated. They were more
concerned to have the approval of men than to have the approval of God."
2. How to Overcome the Fear of Rejection
Psalm 27:1 NLT— The Lord is my Light and my Salvation so why should I be afraid? The Lord is my fortress, protecting me from danger, so why should I tremble?
Psalm 119:39-42 GNT— Save me from the insults I fear…I want to obey your commands; give me new life, for you are righteous. Show me how much you love me, Lord, and save me according to your promise. Then I can answer those who insult me because I trust in your word.
2 Timothy 2:15 PH—For yourself, concentrate on winning God's approval…
Put PEOPLE in their Place
Isaiah 51:12 NLT—The Lord says, "Yes I, am the one who comforts you. So why are you afraid of mere humans, who wither like the grass and disappear?"
Galatians 1:10 NLT— Obviously, I'm not trying to win the approval of people, but of God. If pleasing people were my goal, I would not be Christ's servant.
Romans 8:31 NLT— If God is for us, who can ever be against us?
THE TRUTH: "You Don't Need the Approval of Others to be Happy!"
Put MYSELF in the Proper Place.
Ephesians 1:4 NLT—Even before He made the world, God loved us and chose us in Christ to be holy and without fault in his eyes.
2 Corinthians 10:18 PH—It is not self-commendation that matters, it is winning the approval of God!
Psalm 27:10 NLT— Even if my father and mother abandon me, the Lord will hold me close.