Worship Guide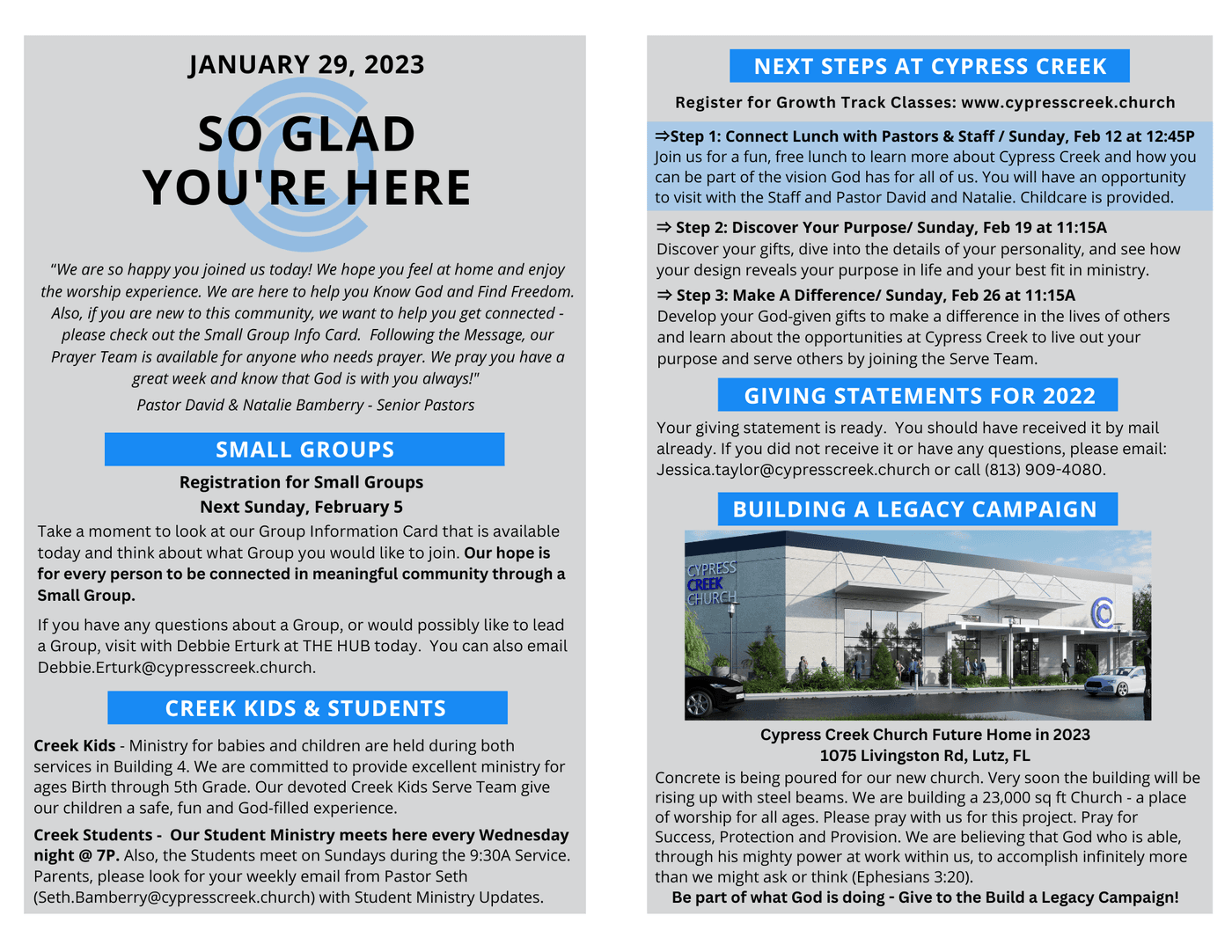 Message Notes
Sunday, January 29, 2023 | Pastor David Bamberry
Healthy Habits of a Christian Believer
Week 4: Putting God First in Your Giving Triggers Great Blessings
Many people fail to see the connection of their obedience, faithfulness, and generosity to God's
Kingdom to God's blessings on their life. Likewise, many don't realize that when they don't put
God first, they are living life without the protection of God's hand in all that they do.
Proverbs 3:9-10—Honor the LORD with your wealth and with the best part of everything you
produce. Then he will fill your barns with grain, and your vats will overflow with good wine.
Isaiah 1:19-20 NKJV—"If you are willing and obedient, You shall eat the good of the land; But if
you refuse and rebel, You shall be devoured by the sword"; For the mouth of the LORD has
spoken.
Jeremiah 29:11 NASB—"For I know the plans that I have for you," declares the LORD. "They are
plans for prosperity and not for disaster, to give you a future and a hope."
Three Reasons Christian are to be Generous
1. Giving Shows Your Gratitude.
2. Giving Shows Your Willingness to Build God's Kingdom through Sacrifice.
3. Giving Shows Your Understanding of Obedience.
God's Plan for Obedient Christians – Deuteronomy 28
Deuteronomy 28:1-2—"If you fully obey the LORD your God and carefully keep all his
commands that I am giving you today, the LORD your God will set you high above all the
nations of the world. You will experience all these blessings if you obey the LORD your
God":
• When you have a business in town - Verse 3
• When you have crops in the fields – Verse 3
• When you desire healthy children – Verse 4
• When you are raising livestock – Verse 4
• When you have to provide meals for your family – Verse 5
To Sum it all Up...God wants to bless you wherever you go and whatever you do! As a
bonus, God will protect you from your enemies! – Verses 6-7
All scriptures are from the NLT unless otherwise noted.