Worship Guide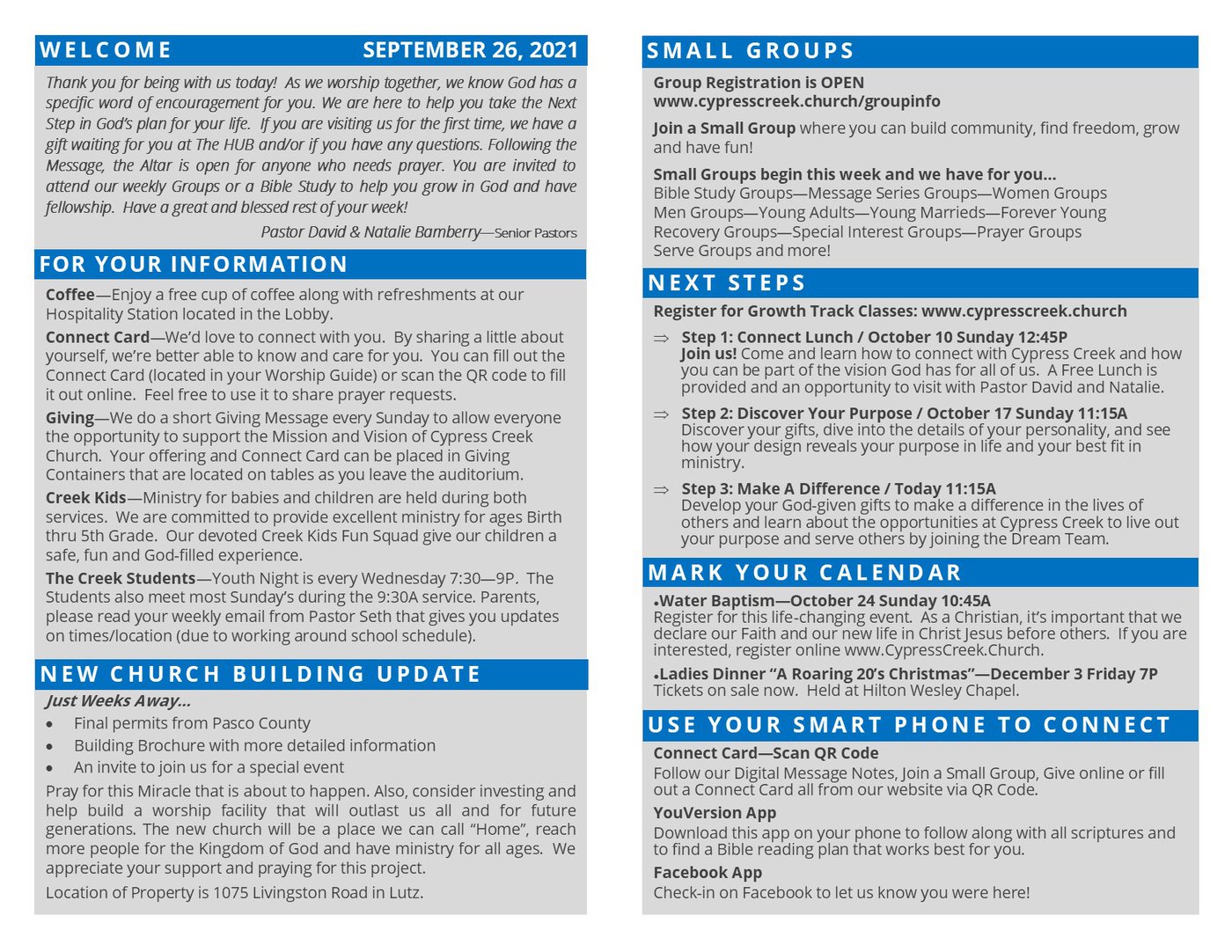 Message Notes
Cypress Creek Church — Pastor David Bamberry
September 26, 2021
Message: FAITH: The Key to Miracles – Part 3
BELIEVE
Jesus told them, "This is the only work God wants from you:
BELIEVE in the One He has sent." John 6:29 NLT
And that message is the very message about FAITH that we preach: If you openly declare that Jesus is Lord and BELIEVE in your heart that God raised him from the dead, you will be saved. For it is by believing in your heart that you are made right with God, and it is by openly declaring your faith that you are saved. Romans 10:9&10 NLT
Four Benefits of Believing in Jesus
1. Everything I have ever done wrong is FORGIVEN.
Psalm 103:3,12 NLT—He forgives all my sins...He has removed our sins as far from us as the east is from the west.
2. I learn God's PURPOSE for my Life.
Ephesians 1:11-12 MSG—It's in Christ that we find out who we are and what we are living for. Long before we first heard of Christ and got our hopes up, He had His eye on us, had designs on us for glorious living, part of the overall purpose He is working out in everything and everyone.
3. I get God's STRENGTH for Daily Living.
Isaiah 40:29 TLB—God gives power to the tired and worn out, and strength to the weak.
4. I'm guaranteed ETERNAL Life.
John 11:25-27 TLB—Jesus said, "I am the one who raises the dead and gives them life again. Anyone who believes in me, even though he dies like anyone else, shall live again. He is given eternal life for believing in me and shall never perish."
What Does It Mean to "Believe in Jesus"
T.R.U.S.T.
T urn EVERYTHING over to Jesus.
Philippians 4:6 NLT—Don't worry about anything; instead, pray about everything. Tell God what you
need, and thank him for all he has done.
R elax in His LOVE.
Romans 8:38-39 NLT—Nothing can ever separate us from God's love. Neither death nor life, neither angels nor demons, neither our fears for today nor our worries about tomorrow—not even the powers of hell can separate us from God's love. No power in the sky above or in the earth below—indeed, nothing in all creation will ever be able to separate us from the love of God that is revealed in Christ Jesus our Lord.
U se my life to serve God by SERVING others.
Romans 6:13 TLB—Give yourselves completely to God—every part of you—for you are back from
death and you want to be tools in the hands of God, to be used for His good purposes.
S uffer for doing what's RIGHT.
I Peter 3:14 NLT—But even if you suffer for doing what is right, God will reward you for it. So don't
worry or be afraid of their threats.
T rust what He SAYS.
Hebrews 6:18 NLT—So God has given both his promise and his oath. These two things are unchangeable because it is impossible for God to lie. Therefore, we who have fled to him for refuge can have great confidence as we hold to the hope that lies before us.
Why I Still BELIEVE
To all who BELIEVED Him and accepted Him, He gave the right
to become children of God. John 1:12 NLT
Memory Verse of the Week
"For God so loved the world that He gave His only begotten Son, that whoever BELIEVES in Him should not perish but have everlasting life." John 3:16 NKJV