Online Bulletin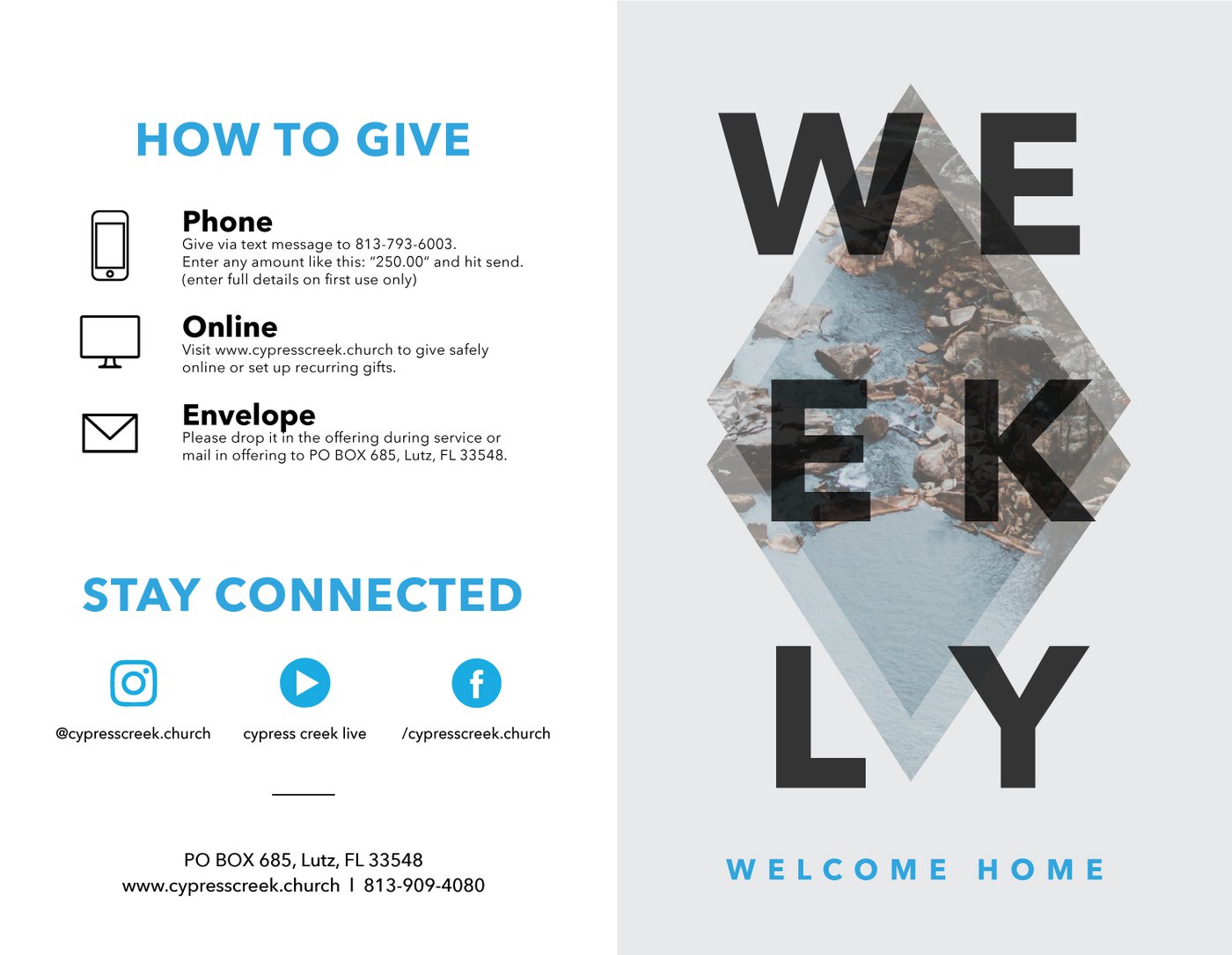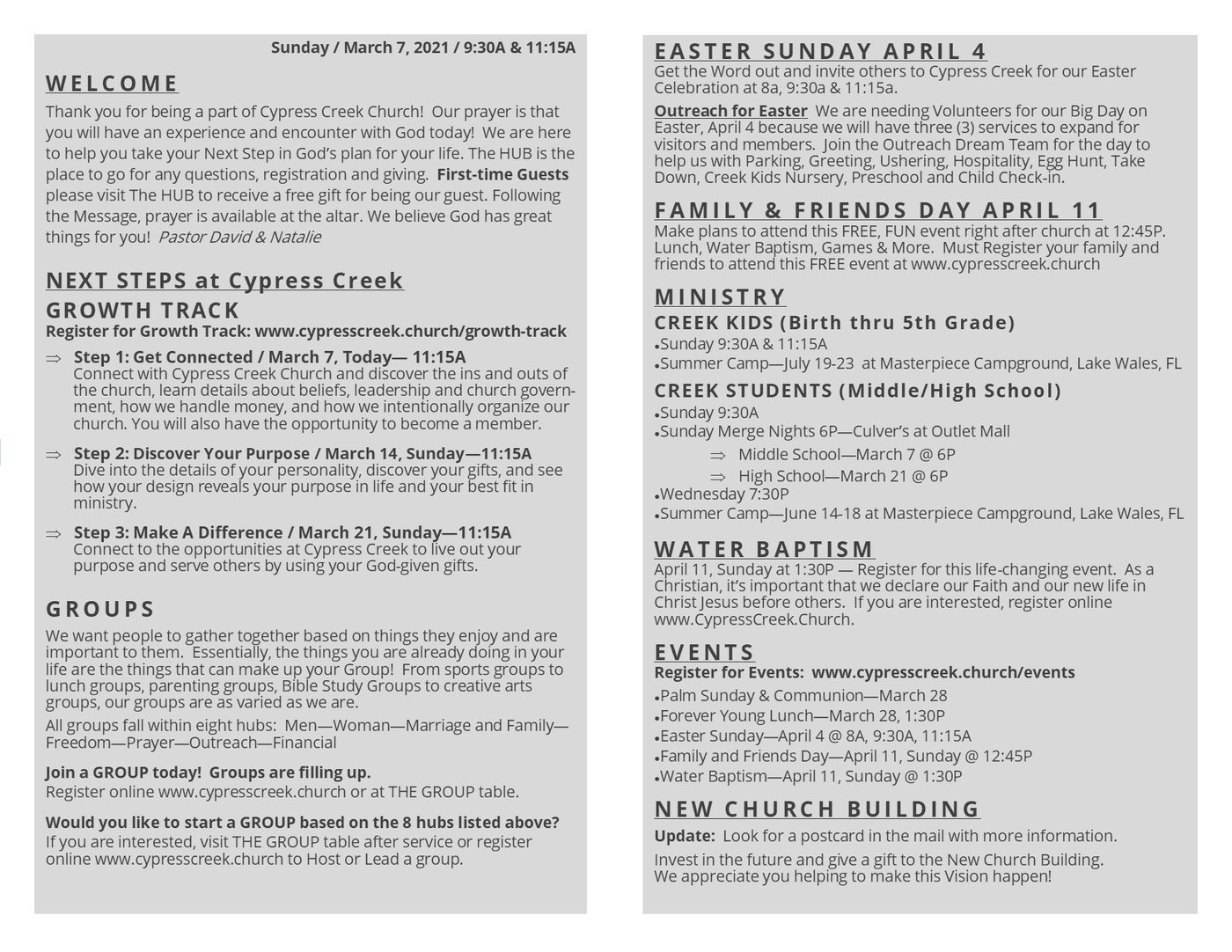 Message Notes
This or That
________________________________
2 Cor 5:17
If anyone is in Christ they are a new creation, the old is past the new has come.
Ephesians 5:1 NLT
Imitate God, therefore, in everything you do, because you are his dear children.
Be a servant of God not of Man
Galatians 1:6-7
6 I am shocked over how quickly you have strayed away from the One who called you in the grace of Christ. I'm astounded that you now embrace a distorted gospel! 7 That is a fake "gospel" that is simply not true. There is only one gospel—the good news of Christ! Yet you have allowed those who mingle law with grace to confuse you.
Man focuses on what you do
God focuses on what Jesus has done
Col 2:10 TPT
And our own completeness is now found in Him. We are completely filled with God as Christ's fullness overflows within us. He is the Head of every kingdom and authority in the universe!
Man focuses on getting God's approval
God focuses on receiving God's Love
Ephesians 5:1 You are God's children whom he loves, so be like Him. 2 Live a life of love just as Christ loved us and gave himself for us as a sweet-smelling offering and sacrifice to God.
You don't live for God's approval, you live from God's approval.
Romans 5:8
But God showed his great love for us by sending Christ to die for us while we were still sinners.
Romans 3:22-26 (GW)
22 Everyone who believes has God's approval through faith in Jesus Christ. There is no difference between people. 23 Because all people have sinned, they have fallen short of God's glory. 24 They receive God's approval freely by an act of his kindness through the price Christ Jesus paid to set us free from sin. 25 God showed that Christ is the throne of mercy where God's approval is given through faith in Christ's blood. In his patience God waited to deal with sins committed in the past. 26 He waited so that he could display his approval at the present time. This shows that he is a God of justice, a God who approves of people who believe in Jesus.
Man focuses on external duty
God focuses on internal desire
Philippians 2:5-10
5 Your attitude should be the kind that was shown us by Jesus Christ, 6 who, though he was God, did not demand and cling to his rights as God, 7 but laid aside his mighty power and glory, taking the disguise of a slave and becoming like men. 8 And he humbled himself even further, going so far as actually to die a criminal's death on a cross. 9 Yet it was because of this that God raised him up to the heights of heaven and gave him a name which is above every other name, 10 that at the name of Jesus every knee shall bow in heaven and on earth and under the earth, 11 and every tongue shall confess that Jesus Christ is Lord, to the glory of God the Father.
HOW DO I LIVE FROM GOD'S APPROVAL?
Fall in love with Jesus
John 14:15
If you love me, you will obey my commands.
Matthew 22:37-39
37 Jesus answered, "'Love the Lord your God with all your heart, all your soul, and all your mind.' 38 This is the first and most important command. 39 And the second command is like the first: 'Love your neighbor as you love yourself.
Don't allow condemnation
Romans 8:1
There is therefore now no condemnation for those who are in Christ Jesus.
John 20:24 - 25
24 Thomas (called Didymus), who was one of the twelve, was not with them when Jesus came. 25 The other followers kept telling Thomas, "We saw the Lord." But Thomas said, "I will not believe it until I see the nail marks in his hands and put my finger where the nails were and put my hand into his side."
John 11:7-8, 14-16
7 Then Jesus said to his followers, "Let's go back to Judea."
8 The followers said, "But Teacher, some people there tried to stone you to death only a short time ago. Now you want to go back there?"
14 So then Jesus said plainly, "Lazarus is dead. 15 And I am glad for your sakes I was not there so that you may believe. But let's go to him now."16 Then Thomas (the one called Didymus) said to the other followers, "Let us also go so that we can die with him."
John 20:26-27
26 A week later the followers were in the house again, and Thomas was with them. The doors were locked, but Jesus came in and stood right in the middle of them. He said, "Peace be with you." 27 Then he said to Thomas, "Put your finger here, and look at my hands. Put your hand here in my side. Stop being an unbeliever and believe."
Romans 6:14
Sin will not be your master, because you are not under law but under God's grace.
Make the choice everyday
Galatians 2:20
I have been crucified with Christ: and I, myself no longer live, but Christ lives in me. And the real life I now have within this body is a result of my trusting in the Son of God, who loved me and gave himself for me.
Welcome Home